Dahlia Yellow Gold Rough Emerald Pendant and Paper Clip Chain
$12,140.00
This enchanting pendant features a rough, marbled emerald  framed in 18kt gold. Paired with the trendy yellow gold paper clip chain, it's chic yet stunning. Wear as a set styled in a variety of ways; looped twice, or style as a choker.
– 18kt yellow gold – 12ct rough emerald – 37″ hand made paper clip chain
Cost for both Dahlia Yellow Gold Rough Emerald Pendant and Paper Clip Chain: $12,140.00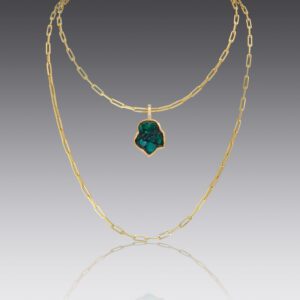 The chain and pendant can also be bought and worn separately.
Cost for just Dahlia Yellow Gold Rough Emerald Pendant: $4,900.00
Cost for just Dahlia Yellow Gold Paper Clip Chain: $7,240.00